Do you want to learn how to make amazing creations with your hands?
Sign up to learn how to knit and the sky is the limit for the amazingly wonderful things you can make!
I am going to be totally honest with you. I have an addiction. No matter how hard I try, I can't stop knitting.
And when I'm not knitting, I can't stop thinking about knitting. What am I going to make next? What color should my next hat be? How should I design that sweater? What fiber would work best for that scarf?
It doesn't stop.
But I don't want it to. Knitting has helped me keep my sanity through so many of life's great challenges, stresses, and obstacles.
I knit when I'm overwhelmed. I knit when I'm worried. I knit when I am trying to make difficult decisions. I also knit when I'm happy or when I'm bored or when I just need to DO something.
It's no secret that repetitive motion of the hands is key to easing and relaxing your mind and even your heartrate.
At the age of 18, I was in a high stress music industry job. After leaving that world, I went to college and took a rigorous class load and earned my degree and teaching credential. Then I was a teacher in the classroom in one of the most difficult school districts in the US. I lived in Los Angeles and had to drive the dreaded parking lot that is the 405 freeway for hours a day. I had a mortgage payment that was larger than I wanted. I had a lot on my plate and I felt stressed constantly.


There was a lot of tension in my life. But through all of these obstacles life brought my way . . . knitting was my savior.


It honestly helped me keep my sanity and gave me moments of calm that were much needed in my life. Sitting down in a comfy chair at the end of a long day, I would pull out my knitting bag and get lost in the softness of my yarn, the repetitiveness of the movements, and the pure pleasure of clicking my needles away.
Through all these stresses, I've created some amazing – what I like to call – works of art. But I'm not going to lie. I've also made some not so beautiful creations, but no matter how they turned out – I learned something new and still loved every stitch along the way.


Knitting has helped me in more ways than I can ever express.
If you give me the chance to share my love for this artform with you, I know you will be introduced to an incredible new hobby. This is a world where anything is possible with only a ball of yarn and two sticks.
You will also be part of an amazing community of fellow fiber fanatics. I don't say this lightly. I truly believe that all knitters share a common thread (pun intended) between us. No matter your background, race, politics, gender, and everything else that separates humans in the normal world, a love for knitting brings us together in the most wonderful ways possible.
You have nothing to lose and only wonderful things to gain by becoming a knitter.
Come and join this amazing community and learn a wonderful new craft that you will grow with for many years to come.
Are you ready?
All the things you will LEARN in this ULTIMATE course:

How to choose your materials
How to read a ball band
Backwards loop cast on
Long tail cast on
The difference between Continental and English style knitting
The knit stitch (Continental and English style)
The purl stitch (Continental and English style)
Garter stitch
Reverse garter stitch
Stockinette stitch
2 x 2 rib stitch
Passover bind off
K1, P2tog bind off
How to join new yarn
Single ply splicing
How to weave in your tails
How to fix basic mistakes
K2tog (knit two together decrease)
Countless tips and tricks to get you on the right path towards being a true knitting Rockstar!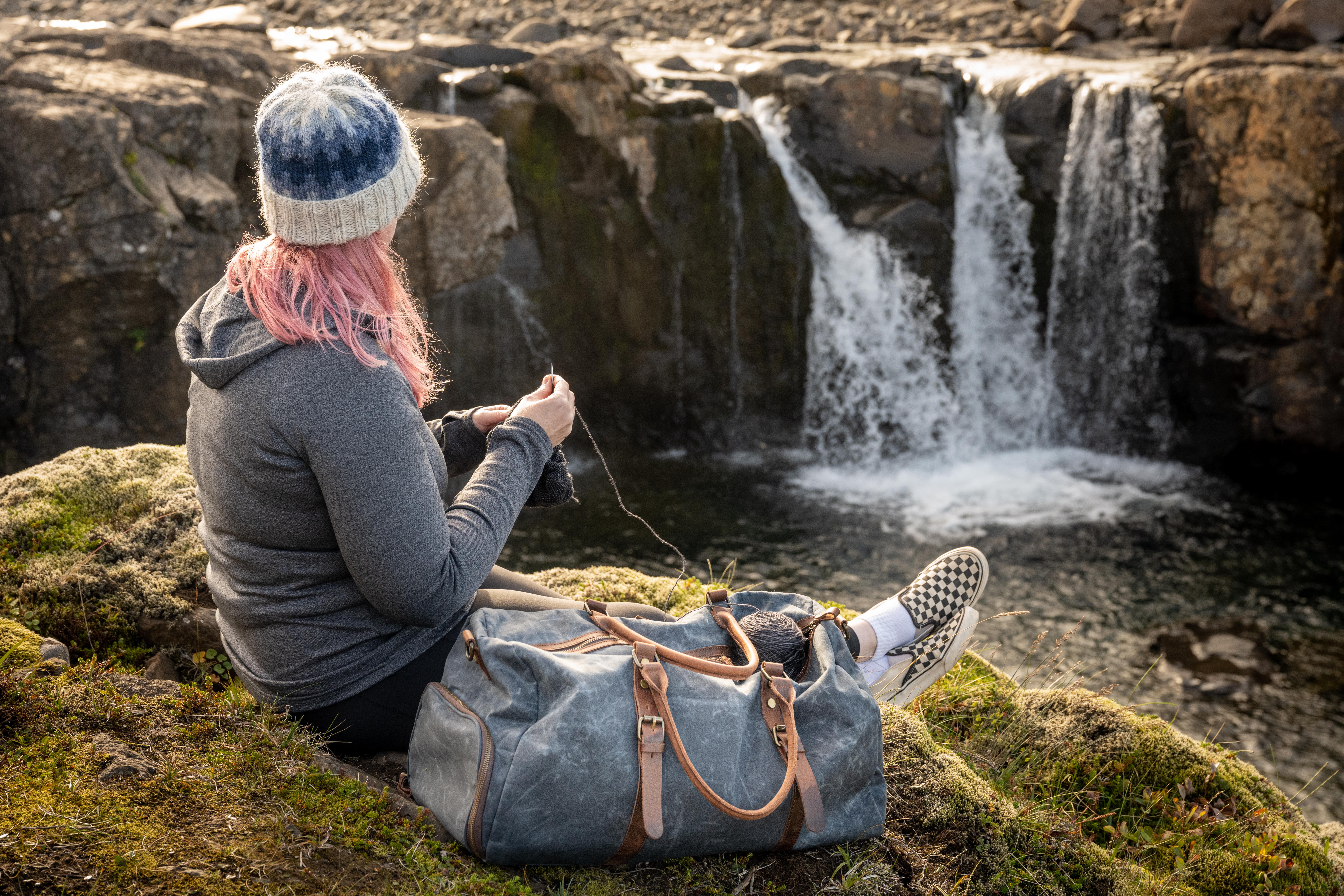 Why should you learn to knit from me?
I've taught hundreds of people of all ages how to knit
It's not just a hobby or a business for me, it's my passion
I'm a credentialed teacher
I've taught dozens upon dozens of classes of all levels for other people
I knit for the Hollywood film industry and am proof that you can make money from this craft
I am active in the FB community and send videos and pictures to help you troubleshoot any knitting problems you encounter
I absolutely love this craft and more than anything, I love to create new knitters
Who is Knit Like A Rockstar for?
Awesome people that have never knit a stitch in their life AND those that learned the basics years ago and want to get back to their needles. It's okay if you have never touched a ball of yarn before. But be warned that once you learn how to knit, your day will feel incomplete if you haven't knit a few rows on your project. And if you were taught the basics once upon a time, you will be refreshed on the basics and learn so much more than you ever thought you could in one course. 
People who want to find a healthy de-stress method of relaxing. The repetitive motion of knitting is scientifically proven to lower heart rate and put your body into a more relaxing state. In today's time, who doesn't need a little healthy distraction from the stress of the world?!
Anyone that wants to use their hands to create something amazing and unique. Humans have been creating art since the day of the caveman. We need to create. It's in our DNA. 
People who don't like to be bored during all the times in life we have to sit and wait. I don't know about you, but I hate wasting time. Sitting in a waiting room, watching my nephews at a football game, winding down in the evening with some Netflix (which you will soon call Knitflixing). Think about all the times you have to just sit and wait. Yes, you can surf around on Instagram and see what other people are creating or you can pick up your needles and create something amazing for yourself.
Someone that loves to give gifts that are special, unique, and one of a kind. Think of all the parties you go to – baby showers, wedding showers, house warming parties, birthday parties. Sure, anyone can give a gift card or a box of Tupperware. But the gifts that are truly appreciated, remembered, and cherished are the ones that you made with your own two hands to show someone how much they mean to you. What would you rather receive – a set of dishtowels from a department store or a beautiful set of handknit towels made in the exact colors of your kitchen by someone that means the world to you?
Who is Knit Like A Rockstar NOT for?
Instant gratification needers. It's true that Rome wasn't built in a day. It's also true that a sweater wasn't handknit in a day – or even a week. If having something done quickly is more important than quality, then knitting is probably not for you.
People that give up too easily. I don't really remember, but my parents have told me that I fell down a few times when I was learning to walk. I also remember learning how to knit and dropping a few stitches along the way. If you get frustrated by not being perfect at something the first time you do it, then knitting is probably not for you. Like all skills in life, knitting takes time, patience, and practice to achieve results.
In person learners. I would love to sit on the couch with every single person that wants to learn how to knit and be there to move your hands and hold your work in my hands. I would probably be snuggling with your cats or dogs and raiding your refrigerator as well. But if you know that you just can't learn new skills from videos, then I recommend finding a local yarn shop that you can visit in person. I – along with many others – will be in the private Facebook community group to help you as much as we can, but if using pause and rewind aren't in the things you enjoy doing, then this course is not for you.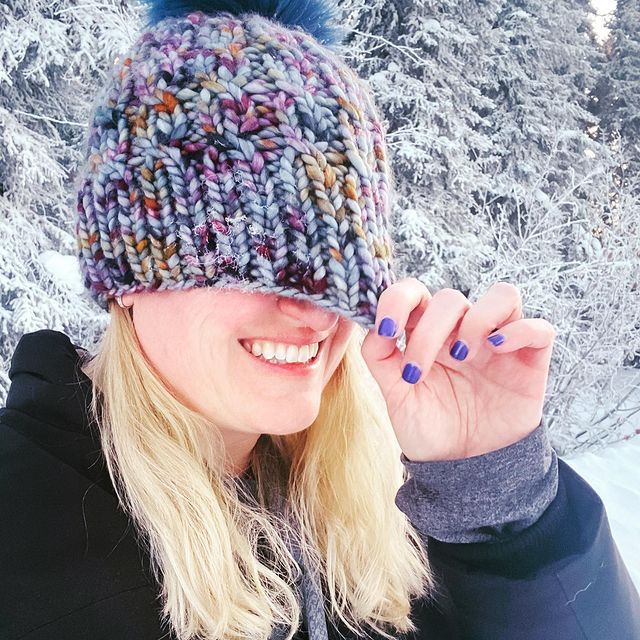 Your Instructor, Krista Ann
Krista Ann (aka "Knitsy") is a self-titled obsessive knitter. It's unusual (and sometimes alarming!) when friends and family see her without her knitting in her lap or hanging off her hip.
She has made a career out of knitting (and crocheting) for Hollywood films and TV as well as fashion designers.
She knits not only because she loves it, but it also pays the bills.
She is a nomad with her husband and their princess fur baby kitty, Dr. Phineas (aka "Phinny"). Living in a 26-foot travel trailer, they travel the USA and often take excursions to other countries whenever they can make it work in her busy knitting schedule.
A credentialed teacher, Krista loves to teach and share her passion for knitting with anyone who is willing to learn. She teaches at local yarn shops while on their travels and loves to visit fiber farms, meet indie dyers, and interview local yarn shop owners for her blog, ExplorewithKnitsy.com.
FAQ
There are so many free videos online, why should I pay for this?
There are hundreds – if not thousands – of free videos online that can teach you some of the skills I teach in this course. But there are no full courses that teach you everything that I teach all in one place. If you were to take classes to learn all of the individual techniques taught, you would need to take about 15 – 20 different classes and probably some private lessons. Classes range from $40 to upwards of $80 - $100 EACH. At the very minimum, you would spend over $600 and receive zero post class support. You would easily spend between $2000 - $3000 in classes and private lessons to learn everything I'm going to teach you in these knowledge-packed, start to finish, tutorial lessons. I've spent it, so I know!
Why should I learn from you?
I love this question because this is where I really light up. I've taught hundreds of people how to knit – from ages 8 and up. I even had a 76-year-old woman that was learning new skills from me. I absolutely love what I do and I love sharing it with others. I am a credentialed teacher, which is really only a piece of paper saying that I went through a lot of schooling to know how to teach. But what being a credentialed teacher really allows me to do is teach all levels in multiple ways. I never teach how to do a technique in a "one and done" method. I pride myself in showing how to do the same thing in at least two or more ways. Not everyone learns the same way and so they shouldn't be taught in the same way. And also, I'm here for you in a private Facebook group to answer your questions, send you pictures or videos, and help you through those times when things get too tough. I promise that you won't have the kind of support in any other course that I will be here to give. I charge $50 an hour for private lessons, but you will have full access to me and my team which is all included in the price you pay for this one course. And as long as I'm alive, I'm here to support you for all the years to come.
What qualifies you to teach so many techniques?
Let's just say that I've knit a couple of stitches in my life. Not only do I knit for pleasure, but I also knit for my career. I knit and design pieces for costume and fashion designers. I've knit yarn shop samples, yarn companies, other people's blogs, and for a plethora of other people that needed well-made pieces in a hurry. I've taken tons of classes, learned from some of the best, and developed techniques unique to my own knitting needs. I don't think it's possible for someone to be an expert in every single knitting technique, but I'm about as close as you can get!